We will simplify your business
Rely on the online Facility Management System to manage your company
Find out more
Keep your facility management under control
Medor ISTS contains modules that make it easy to effectively record failures, service interventions and regular maintenance with the possibility of managing financial, material and human resources, as well as other possible extensions tailored to your needs.
Medor ISTS also includes features for building management, service intervention progress and failure rate monitoring, and technology and equipment management, including their documentation. There is also a wide range of options for exporting individual outputs (for example, in the form of contingency tables).
Why use Medor ISTS?
Comprehensive solution ‑ in addition to facility management, it also monitors financial, material and human resources
Available online ‑ you have access to important information about your company at any time and from anywhere
Individual reporting ‑ you can set what your regular report should look like
Who uses Medor ISTS?
Selection of some our very important clients who rely on us:
We are partners for your business
Ing. Pavla Kotrášová

Accounting Manager

Medopharm, s.r.o.

The cooperation with company Austro-Bohemia lasts more than 14 years and I am absolutely excited out of their work. Their professional and in particular human and individual approach is invaluable. From a position of the financial manager I appreciate prompt and almost immediate reaction to any problem and the effort to solve it all with maximal satisfaction of customer. I can rely on all of their reports. I really recommend the cooperation with Austro-Bohemia to all!

Mgr. Zbyněk Pronteker

Business Unit Manager

+pharma Česká republika s.r.o.

I am very satisfied with company Austro-Bohemia,we are using their services from the begging of our operation on a Czech market. For the purpose of managing our relationship with our customers we use system Medor CRM, which is very intuitive and user friendly right after brief training. System also brings us all necessary reports and key pointers to manage our activities.

Mgr. Kateřina Slabá

Product Manager

TECOM ANALYTICAL SYSTEMS CS, spol. s r.o.

We have been cooperating with Austro-Bohemia for more than 10 years. The IT support provided by Austro-Bohemia to our company is excellent and a professional approach has been a matter of course since the beginning of our many years of cooperation. I also appreciate the excellent communication and the ability to respond flexibly to all our requirements. Austro-Bohemia means seriousness and professionalism.

Ing. Josef Maléř

Business Unit Manager

Exeltis CZECH, s.r.o.

Austro-Bohemia has been providing Medor CRM to our company for more than 3 years. I particularly appreciate the ability to prepare Medor CRM according to our needs and requirements. I also appreciate their constant efforts to improve Medor and their service related not only to system support but also to IT administration.
Security of Medor ISTS
Client security is based on using modern SSL certificates that don't allow eavesdropping on communications by a third party. Your data is secured by username verification, a strong password and a system of basic access rights. All data is stored on a secure server in a data centre and is regularly backed up. The building has 5 security perimeters against physical intrusion, with access protected by a CCTV system and PIN cards. The data centre is not affected even if 2 routes are cut at the same time.
Basic system features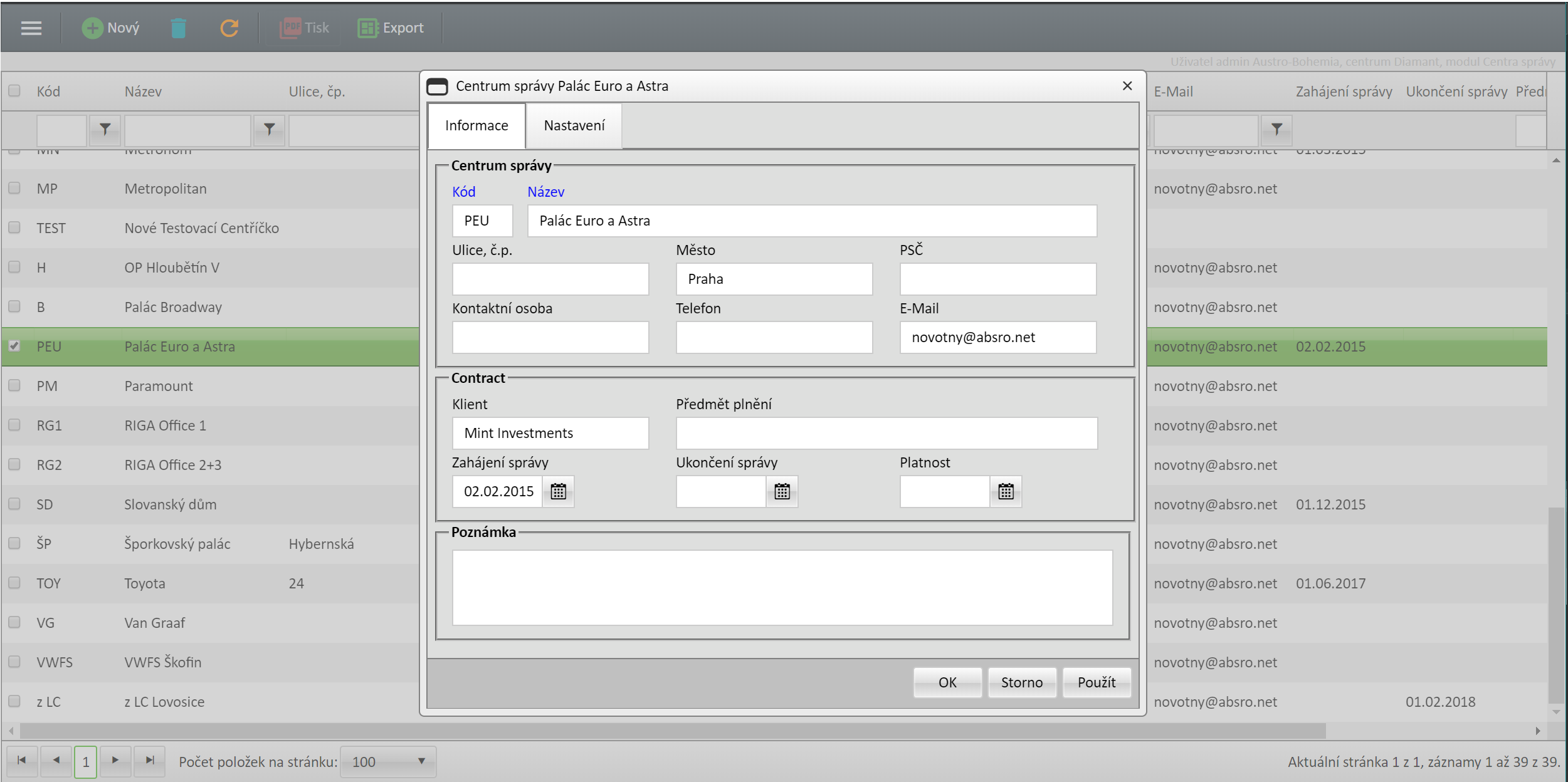 This is a list of individual managed objects and all technical and economic information about them.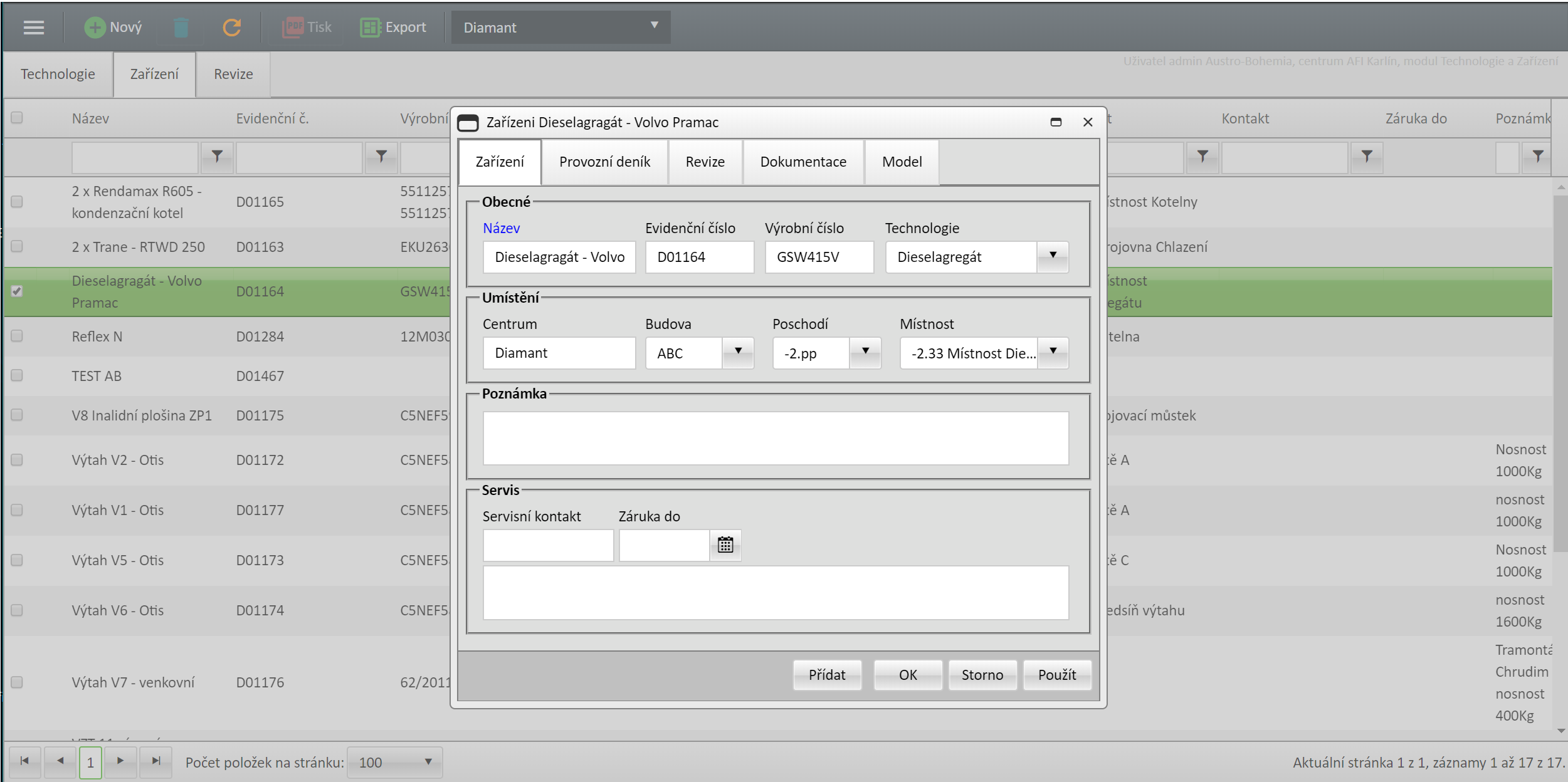 Creates one of the most important parts of the system. It is records of all technologies and devices, used in managed buildings. If you upload in the system technical documentation, delivery notes and other documents, which are necessary for daily work, you would have them available anytime and easily trackable. Events in the system (revision of the system, disorder and maintenance) can be combine with technology and devices, so you can have available overview of all information about devices/technologies including the actions taken on it.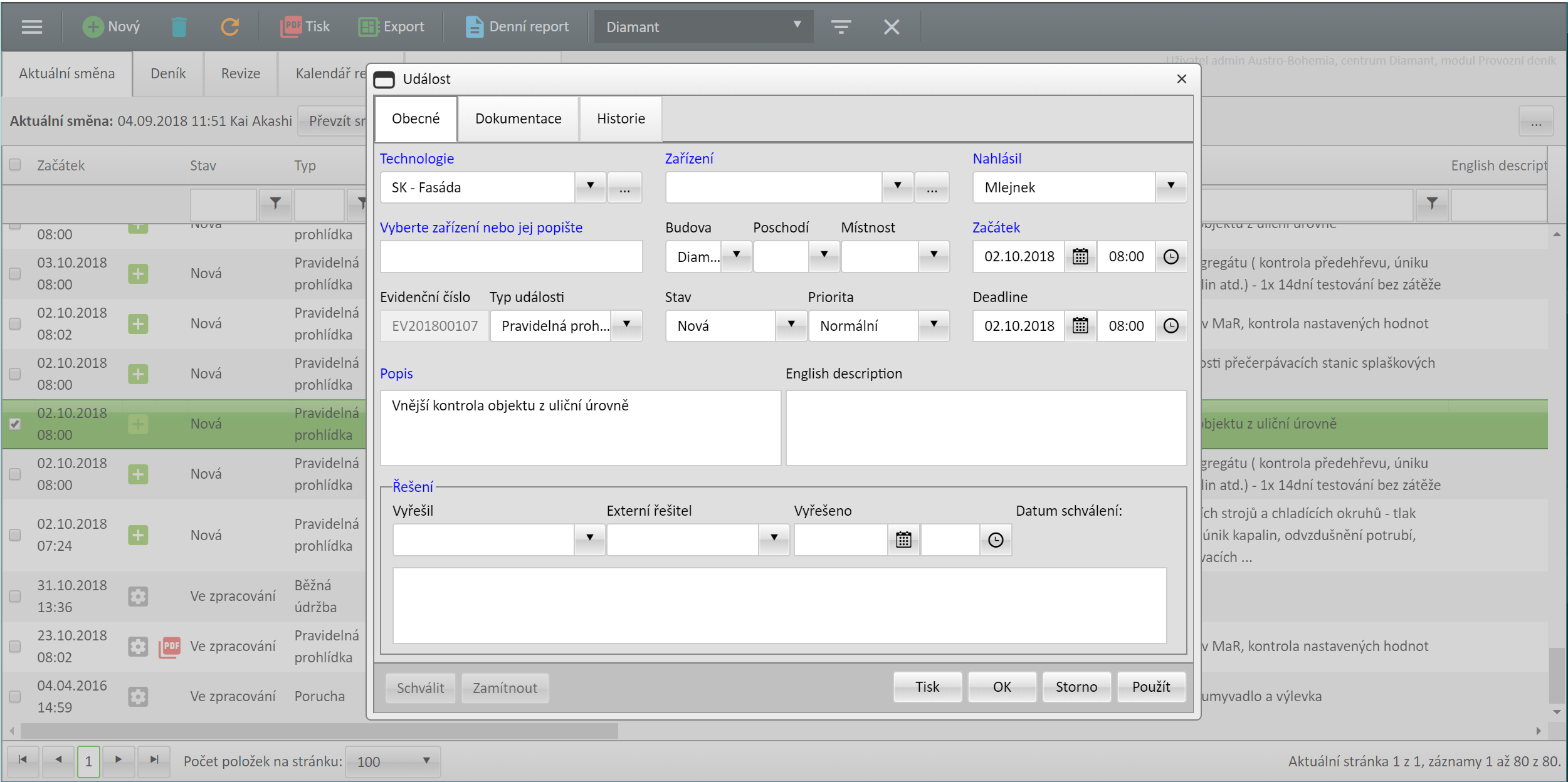 Records all the events, that are being exchanged during the process. The head of shift enters and modifies all information about repairs, service intervention and revisions. Monitoring their progresses and assigning the priorities is a certain thing. If there is not a way to finish all tasks by techniques until the end of the shift, these tasks are automatically assign to upcoming shift. Operating diary is in addition connected with technologies and devices of selected center, therefore the user has available all protocols, certificates and maintenance records, notice of expiration dates reviews, etc.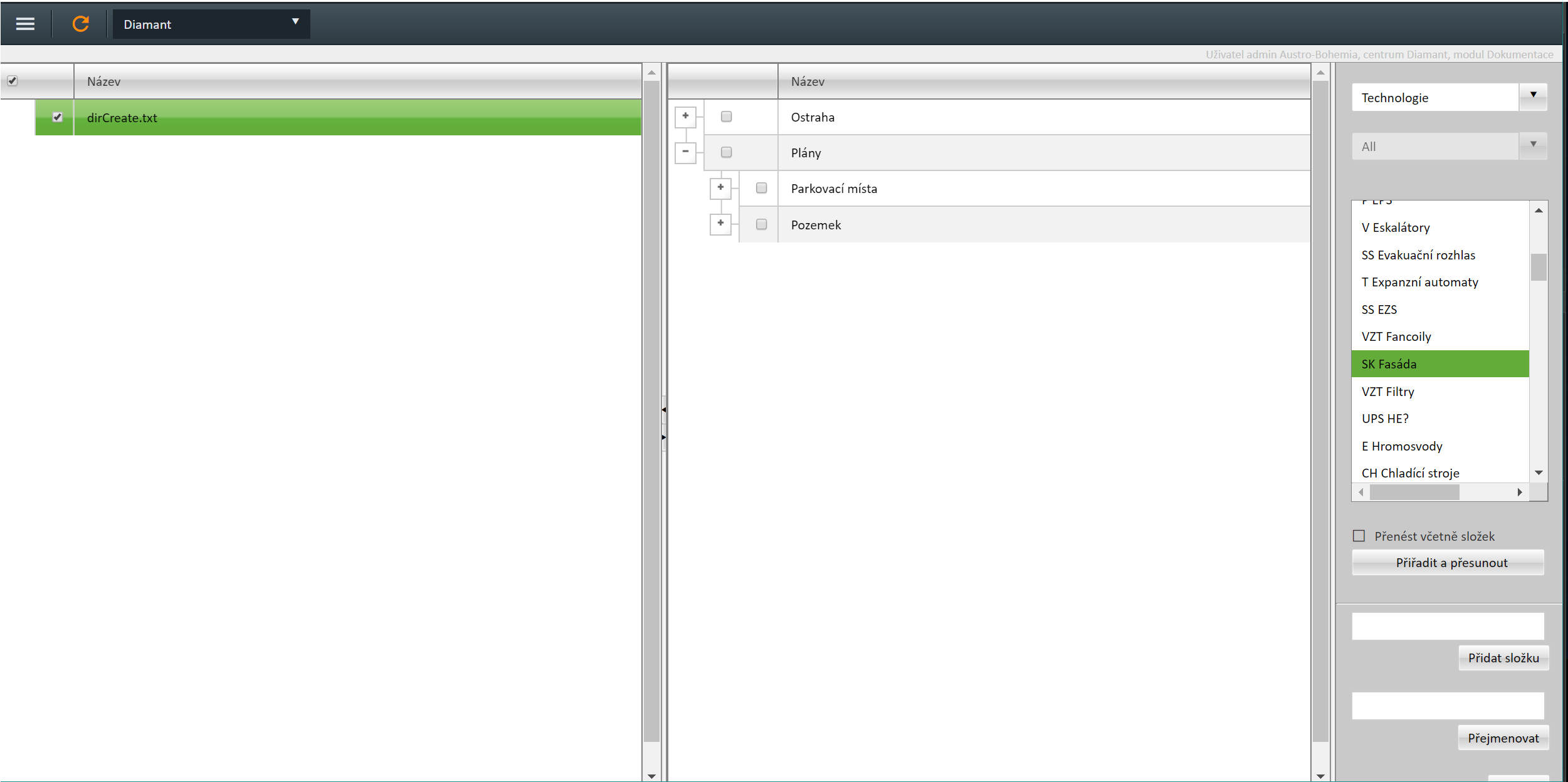 It clearly collects all documents assigned to each individual technologies and devices. This module also serves to mass imports and organization in the same time.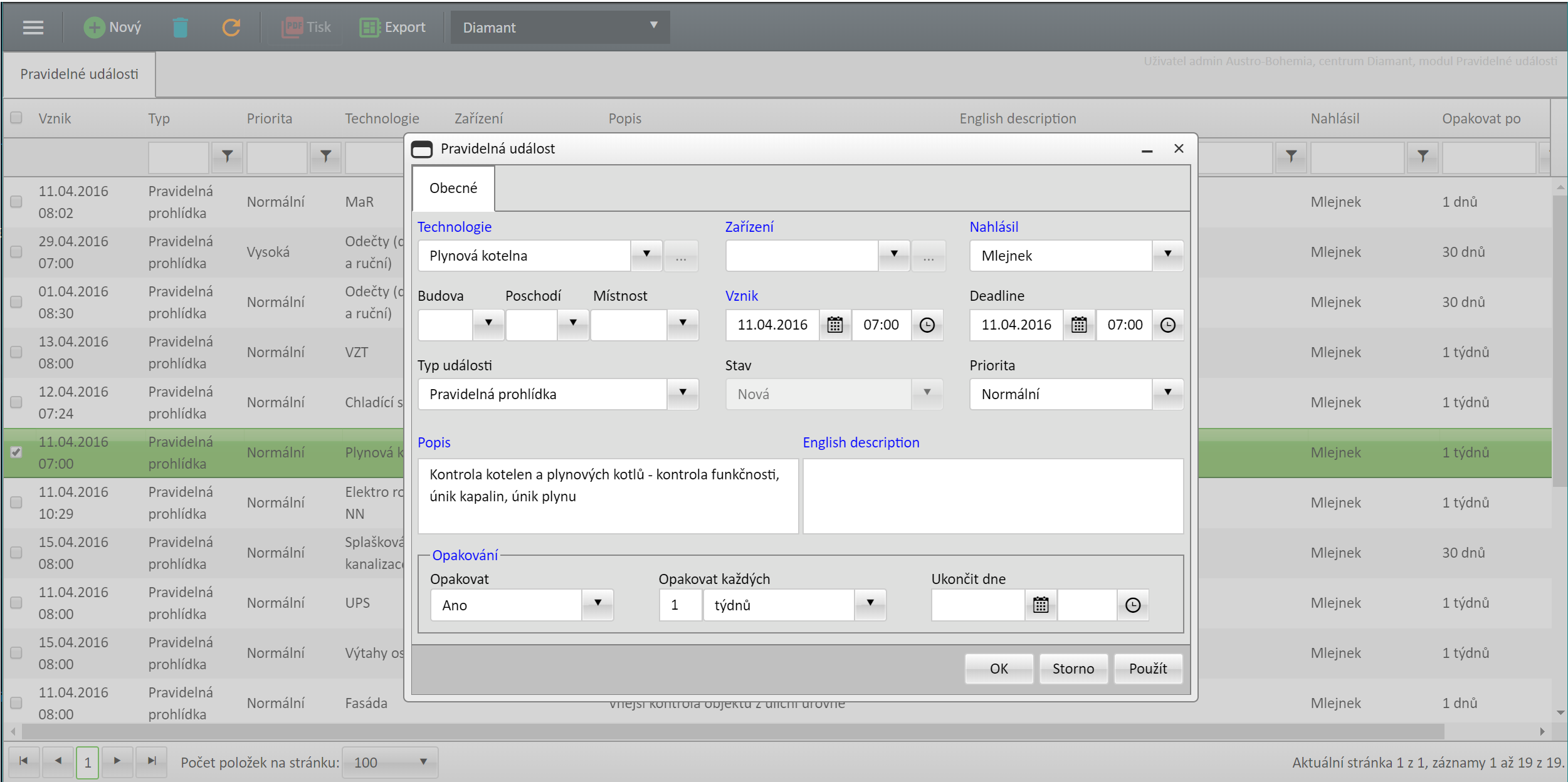 Module, in which the administrator defines pre-planned events. Module contains all planned events (maintenance, control checks, training) and periods, after which they will be generated to operating diary. Within the setting plans has the system administrator availability to create various files of planned events (Checklists) for various centers of administration, where is also possibility to create the list of tasks and set up their repetition.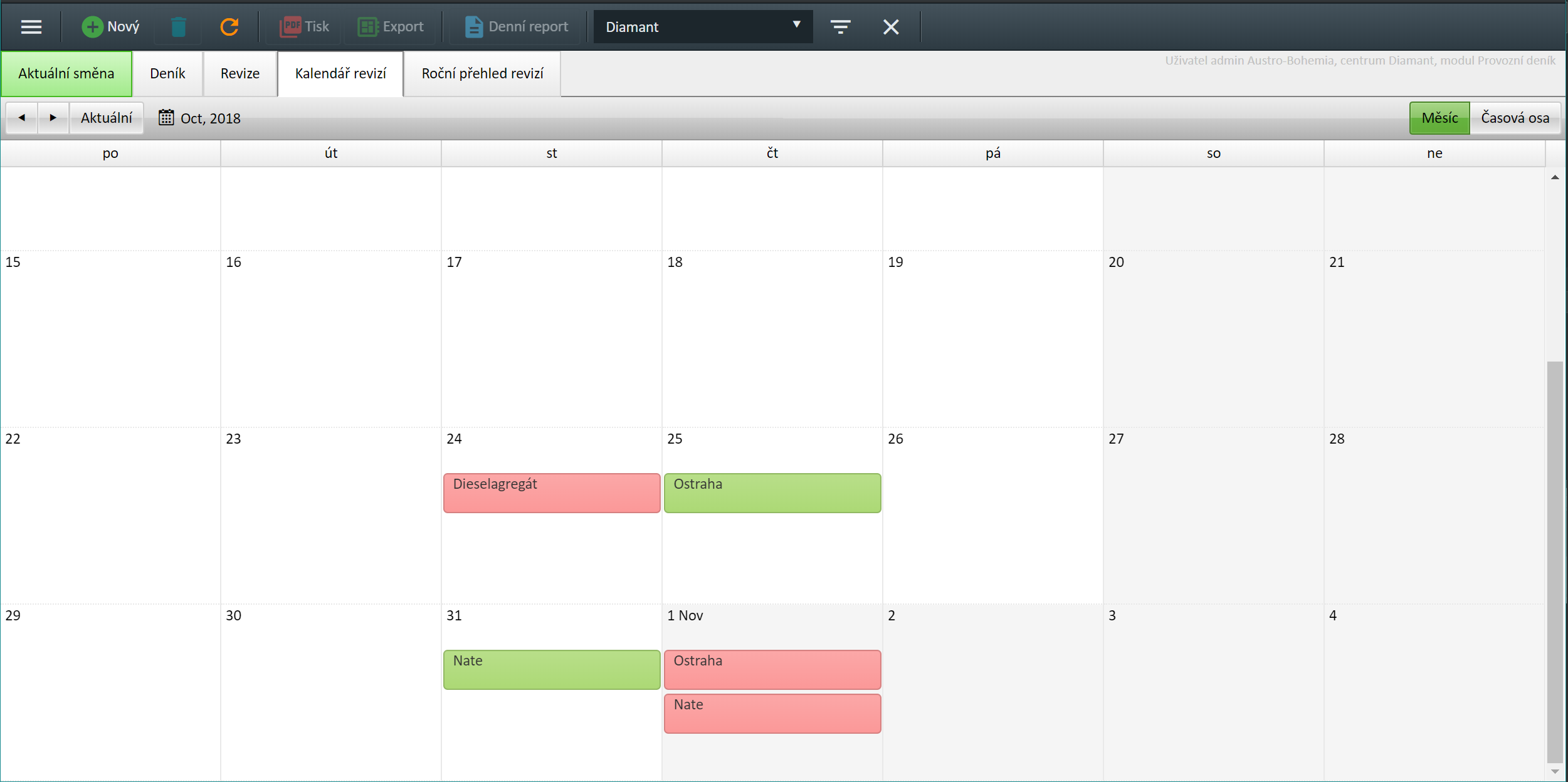 Another bookmark of operation diary, calendar display, shows each events and revisions carried out in selected days and allows additional administration and filtering.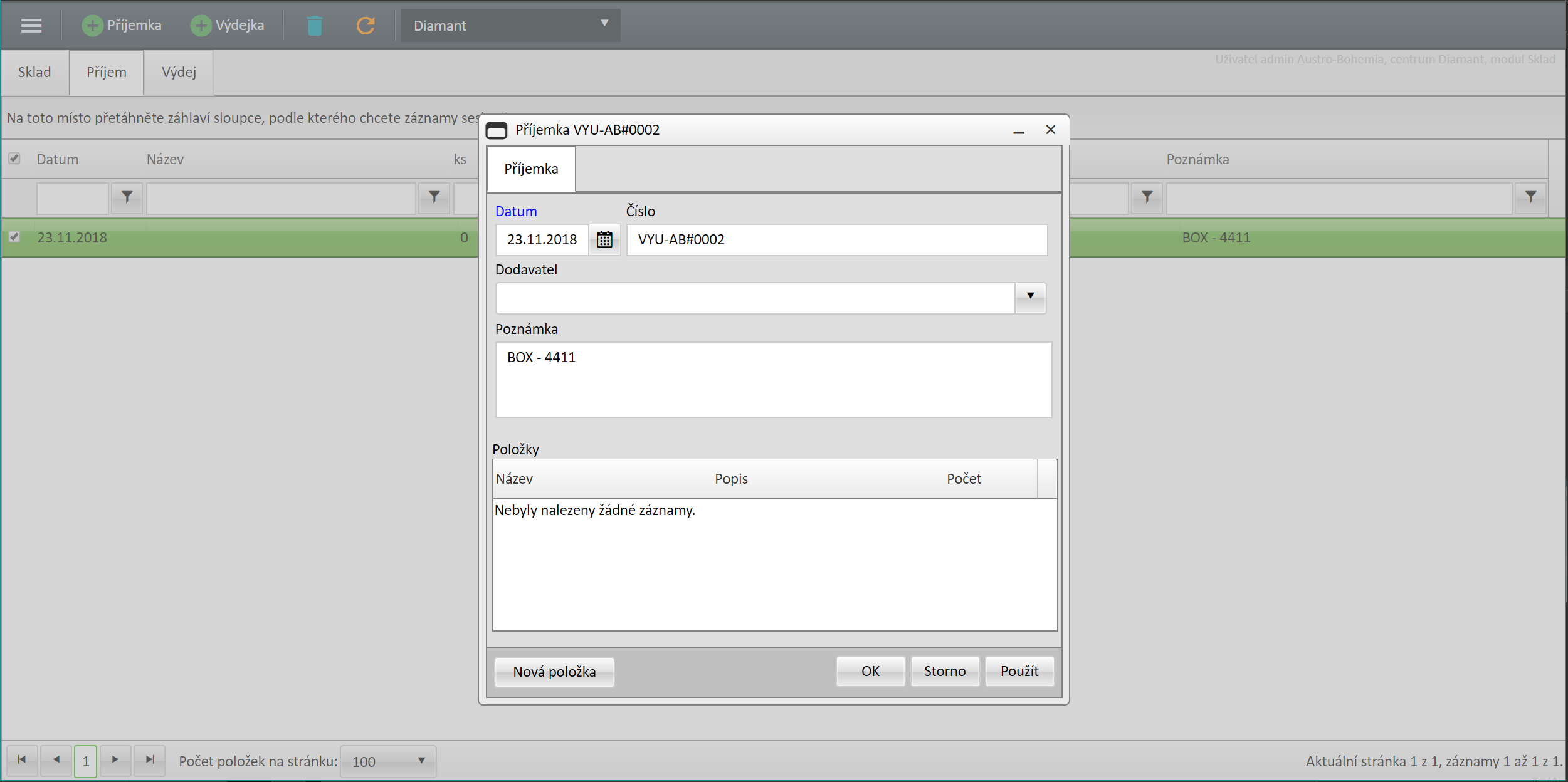 Separate module which expands the system for simple warehouse management allows basic function of income, outcome and information about available sources.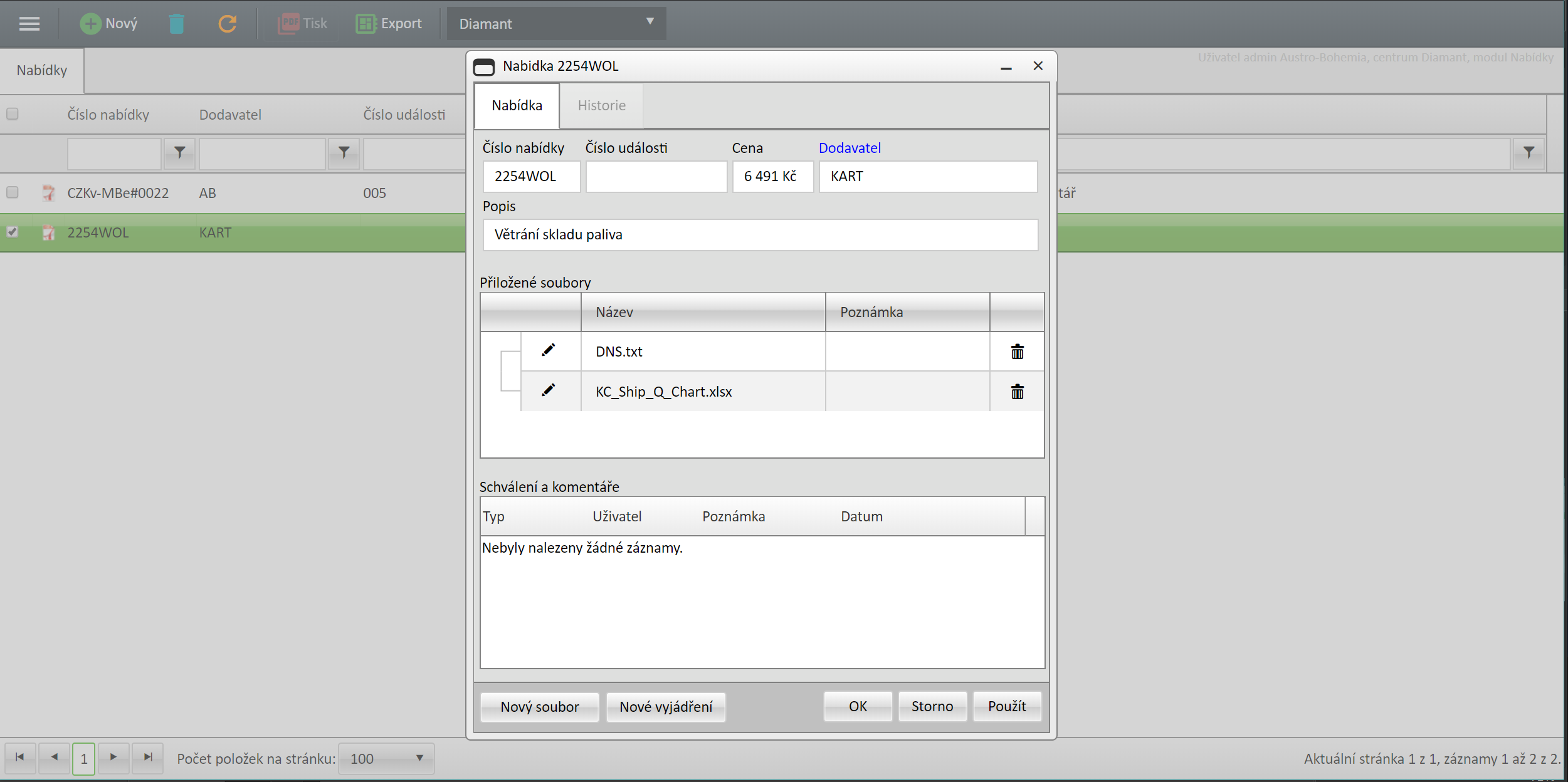 This module adjusts the approval process between the administration of building and its owner. In practice the administrator provides an offer covering any investment to the object and the owner can either approve, deny or comment. Module creates dispatch note also for additional updates of certain offer until the finalized statement and approval (or denial).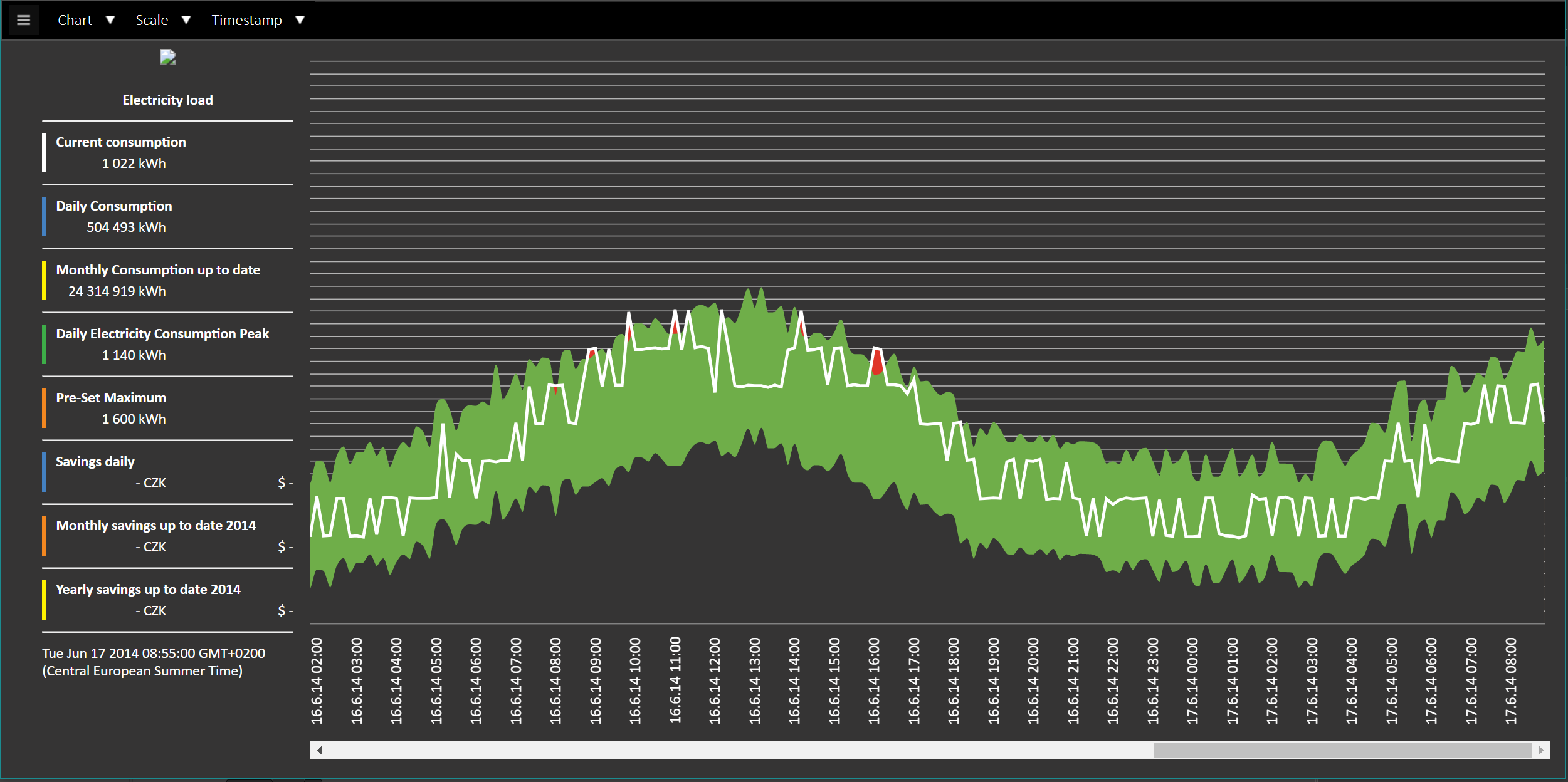 Basic version of the system can be also expanded by the additional functions (modules) according individual needs of the client. As the example can be indicated module of Economic pointer. All modules and functions can be tailored and updated according clients wish.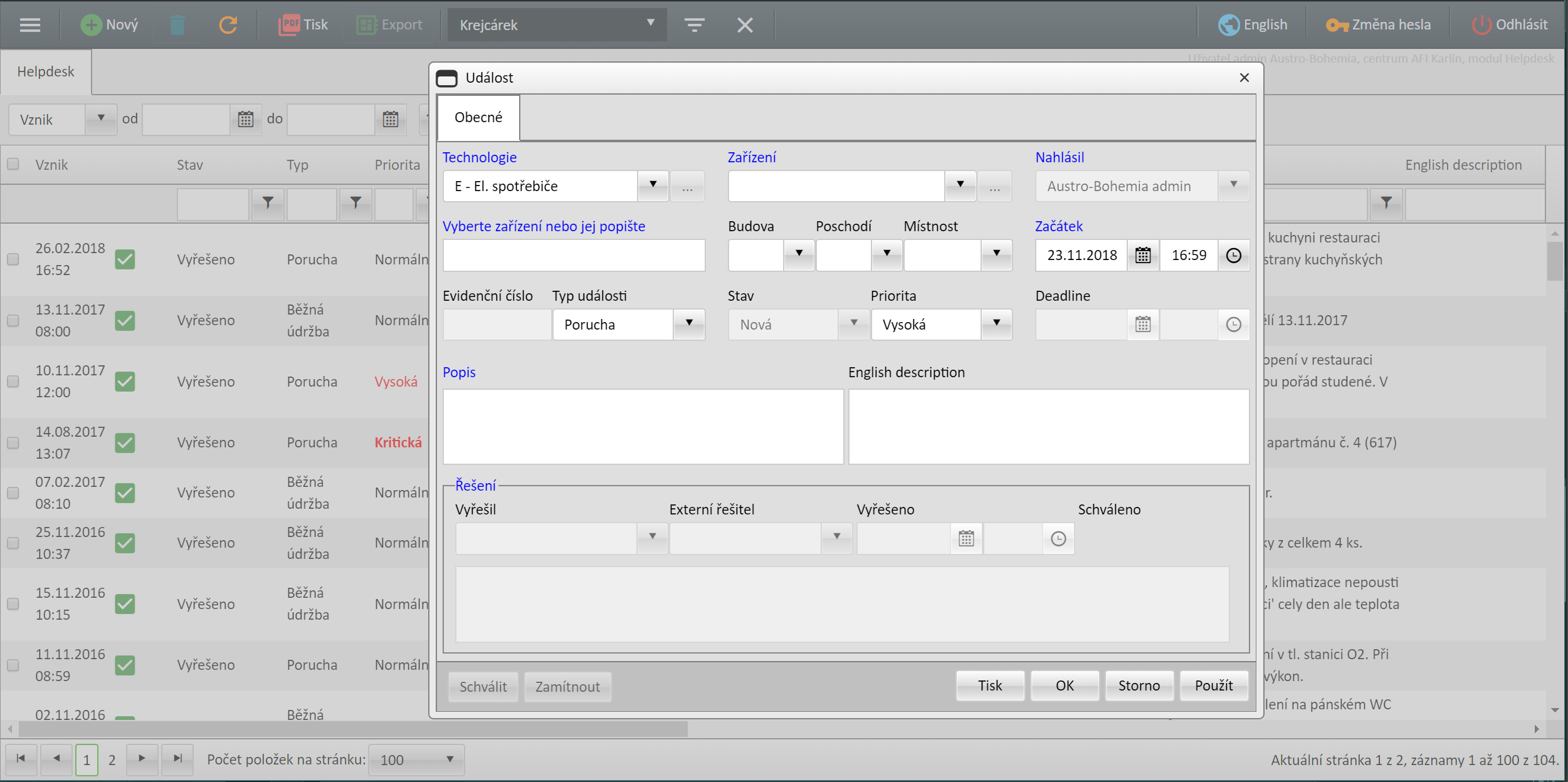 Module is determined to enter disorders from external users of the system (e.g. tenant, porter or security).Same like the operating diary the helpdesk allows to keep history records of disorders in each device and user can see the progress of the requirement.
Price of Medor ISTS
Why is not the price also provided? Because we don't sell the CD, which can be inserted and installed in your laptop, but we offer modular system, which allows to compile functionality according client needs and in the same time we try to meet the individual client expectations and requirements. Price is developed based on complexity of implementation.
Medor ISTS in numbers
14

years of experiences with SW development

34

managed buildings and complexes 365

365

online days

1.034.571

meters square under system administration
Let's meet. We have a solution for you too.
Leave us your contact, or simply ask for anything.