Simple solution to measure glucose levels
We will ensure the connection of glucometers to the hospital system and fast transfer of results.
Find out more
Medor Gluko
The Medor Gluko software displays measurement results from POCT (Point of Care Testing) devices that instantly determine blood glucose levels using StatStrip Connectivity Meters (glucometers).
The measured values are safely transferred to other hospital or laboratory information systems for further processing. It is also possible to use the software to check measurement accuracy – QC (Quality Control).
Why use Medor Gluko?
Easy control ‑ we will take care of the software implementation for you – all you need to do is measure values
High security ‑ the stored values cannot be destroyed in any way due to the system settings
Statistics and analytics ‑ the system archives the measured results, which can also be processed for statistics
Who uses Medor Gluko?
Selection of some our very important clients who rely on us:
We are partners for your business
Ing. Pavla Kotrášová

Accounting Manager

Medopharm, s.r.o.

The cooperation with company Austro-Bohemia lasts more than 14 years and I am absolutely excited out of their work. Their professional and in particular human and individual approach is invaluable. From a position of the financial manager I appreciate prompt and almost immediate reaction to any problem and the effort to solve it all with maximal satisfaction of customer. I can rely on all of their reports. I really recommend the cooperation with Austro-Bohemia to all!

Mgr. Zbyněk Pronteker

Business Unit Manager

+pharma Česká republika s.r.o.

I am very satisfied with company Austro-Bohemia,we are using their services from the begging of our operation on a Czech market. For the purpose of managing our relationship with our customers we use system Medor CRM, which is very intuitive and user friendly right after brief training. System also brings us all necessary reports and key pointers to manage our activities.

Mgr. Kateřina Slabá

Product Manager

TECOM ANALYTICAL SYSTEMS CS, spol. s r.o.

We have been cooperating with Austro-Bohemia for more than 10 years. The IT support provided by Austro-Bohemia to our company is excellent and a professional approach has been a matter of course since the beginning of our many years of cooperation. I also appreciate the excellent communication and the ability to respond flexibly to all our requirements. Austro-Bohemia means seriousness and professionalism.

Ing. Josef Maléř

Business Unit Manager

Exeltis CZECH, s.r.o.

Austro-Bohemia has been providing Medor CRM to our company for more than 3 years. I particularly appreciate the ability to prepare Medor CRM according to our needs and requirements. I also appreciate their constant efforts to improve Medor and their service related not only to system support but also to IT administration.
How does Medor Gluko work?
The basic feature is representation of the results of measurements and accuracy checks (QC). There is a tabular overview of all results, patient history, and a graphical and tabular view of measurement accuracy checks.
Supply of measurement instruments also includes system implementation, including the installation of a complete software solution on the hospital's prepared virtual server. After the operational GlukoServer is launched, the GlukoMedor analytical information system is introduced, the individual glucometers are configured, and the data transfer to the laboratory and hospital systems is put into operation.
Regular service checks and updates are performed throughout the process.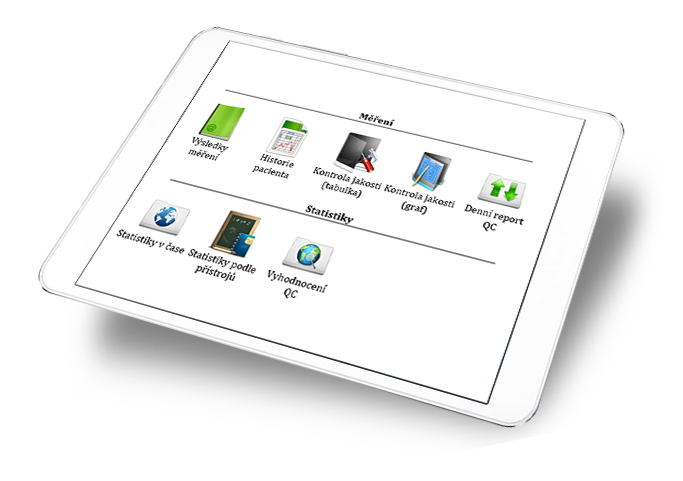 MEDOR TIP: View individual measurement statistics with the Statistics module, categorized according to the selected periods or divided according to the devices used.
Device support
System is designed to support device of Nova Biomedical company.
measures and eliminates the interferences, which can negatively influence the results of glucose determination, beside the other also hematocrit; electrochemical interferences, e.g. ascorbic acid, etc. From a year of 2011 had been published more than 95 publications covering this topic. Device StatStrip™ Glucose/Ketones is used to measure beta-hydroxybutyrat, the determination of it is recommended by the Board of experts (e.g. Joint British Diabetes Society Inpatient Care Group).
is POC analyzer is designed to determine total blood creatinine. The result is available within 30 seconds. Thanks to advanced technology the device allows easy and fast assessment of kidney function only from a drop of capillary blood taken from a patients finger.
is carry-on analyzer, which allows measurement of lactate from vain or arterial blood directly at the patient bed. Nova Biomedical is incorporating its unique micro sensor technology to miniature pre-calibrated single-shot biosensor, which is determined for measurement from full blood in POCT.
Price of Medor Gluko
Why is not the price also provided? Because we don't sell the CD, which can be inserted and installed in your laptop, but we offer modular system, which allows to compile functionality according client needs and in the same time we try to meet the individual client expectations and requirements. Price is developed based on complexity of implementation.
Medor Gluko in numbers
8

years of continuous performance

19

collaborating hospitals

417

active devices

4.794

evaluated results every day
Let's meet. We have a solution for you too.
Leave us your contact, or simply ask for anything.