Exact measurement with visualization
Connecton between hospital system and glucomenter
System is designed to support the equipment of Nova Biomedical company.
Sales department

Medor Helpdesk
Medor Gluko
Medor Gluko is software designed to display measurement results from POCT (Point of Care Testing)device. It is an immediate determination of blood glucose concentration with StatStrip Connectivity Meters ( so called glucometers) and transmission of measured result to other hospital or lab information systems.
Another function is to monitor the condition of glucometer and preparation of results to be transferred via computer hosts various protocols for further processing. Medor Gluko in addition to displaying the measured results, it can also be used to check the accuracy of the measurement QC (Quality Control).
Medor Gluko was designed with an emphasis on simple controls, which, however, does not affect the safety of the work with the measured results. The process of work with the measurement results is limited to reading only, that means that it is not possible to modify any saved results. System can be used as archive of measured results and to elaborate another statistic data.
Function of GlukoMedor
Display of individual measurements
Basic function is to display results from measurements and quality checks(QC). Tab overview of all results is available, history of patient and tab view on the quality check of measurement.
Statistics
Statistic module serves to display individual measurement statistics, categorized according selected period, or broken down by devices.
Implementation of system
In the supply chain of measurement devices is also provided the implementation of the system including the installation of complete software results prepared for virtual hospital server. After running of operational GlukoServer, there is also installation of analytical information system GlukoMedor, to configure each Glucometers and establishment of data transmission to laboratory and hospital systems. Throughout of the project period, the regular service updates and maintenance are performed.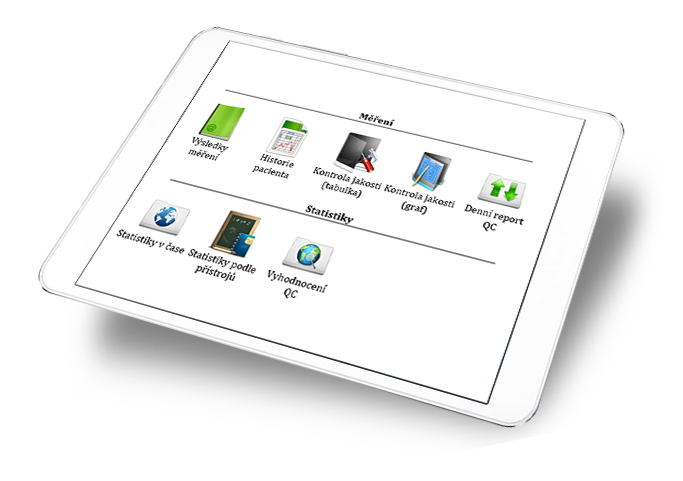 Device support
System is designed to support device of Nova Biomedical company.
measures and eliminates the interferences, which can negatively influence the results of glucose determination, beside the other also hematocrit; electrochemical interferences, e.g. ascorbic acid, etc. From a year of 2011 had been published more than 95 publications covering this topic. Device StatStrip™ Glucose/Ketones is used to measure beta-hydroxybutyrat, the determination of it is recommended by the Board of experts (e.g. Joint British Diabetes Society Inpatient Care Group).
is POC analyzer is designed to determine total blood creatinine. The result is available within 30 seconds. Thanks to advanced technology the device allows easy and fast assessment of kidney function only from a drop of capillary blood taken from a patients finger.
is carry-on analyzer, which allows measurement of lactate from vain or arterial blood directly at the patient bed. Nova Biomedical is incorporating its unique micro sensor technology to miniature pre-calibrated single-shot biosensor, which is determined for measurement from full blood in POCT.
Price of Medor Gluko
Why is not the price also provided? Because we don't sell the CD, which can be inserted and installed in your laptop, but we offer modular system, which allows to compile functionality according client needs and in the same time we try to meet the individual client expectations and requirements. Price is developed based on complexity of implementation.
Medor Gluko in numbers
8

years of continuous performance

19

collaborating hospitals

417

active devices

4.794

evaluated results every day
Who uses Medor Gluko?
Selection of some our very important clients who rely on us:
We are partners for your business
Ing. Pavla Kotrášová

Accounting Manager

Medopharm, s.r.o.

The cooperation with company Austro-Bohemia lasts more than 14 years and I am absolutely excited out of their work. Their professional and in particular human and individual approach is invaluable. From a position of the financial manager I appreciate prompt and almost immediate reaction to any problem and the effort to solve it all with maximal satisfaction of customer. I can rely on all of their reports. I really recommend the cooperation with Austro-Bohemia to all!

Mgr. Zbyněk Pronteker

Business Unit Manager

+pharma Česká republika s.r.o.

Se společností Austro‑Bohemia jsme velmi spokojeni, její služby využíváme od začátku našeho působení na českém trhu. Pro potřeby řízení našich vztahů se zákazníky využíváme systém Medor CRM, který je intuitivní a rychle zvládnutelný již po krátkém odborném zaškolení. Systém nám taktéž poskytuje všechny potřebné reporty a klíčové ukazatele pro řízení našich aktivit. I am very satisfied with company Austro-Bohemia,we are using their services from the begging of our operation on a Czech market. For the purpose of managing our relationship with our customers we use system Medor CRM, which is very intuitive and user friendly right after brief training. System also brings us all necessary reports and key pointers to manage our activities.

Mgr. Kateřina Slabá

Product Manager

TECOM ANALYTICAL SYSTEMS CS, spol. s r.o.

S firmou Austro‑Bohemia spolupracujeme více než 10 let. IT podpora poskytovaná firmou Austro‑Bohemia naší firmě je vynikající a profesionální přístup je od začátku naší mnohaleté spolupráce samozřejmostí. Oceňuji i výbornou komunikaci a schopnost pružně reagovat na všechny naše požadavky. Austro‑Bohemia se rovná serióznost a profesionalita.

Ing. Josef Maléř

Business Unit Manager

Exeltis CZECH, s.r.o.

Společnost Austro‑Bohemia poskytuje naší firmě CRM systém Medor více než 3 roky. Na spolupráci nejvíce oceňuji schopnost připravit Medor CRM dle našich potřeb a požadavků. Vážím si také neustálé snahy Medor vylepšovat a jejich dalšího servisu spojeného nejenom s podporou systému, ale i se správou IT.
Let's meet. We have a solution for you too.
Leave us your contact, or simply ask for anything.