Move forward based on accurate data
Use the Medor Reporting analytical tool for effective company leadership and management
Find out more
Keep track of your business results
Data can be the most valuable thing you have. If you can read it correctly, you will get ahead your competitors and be able to run your company effectively. Medor Reporting will provide you with a simple and detailed view of all your company data.
Our tool for reporting and analysis will provide the necessary information both to your management and sales team for daily work in the field. Based on KPIs, we will create comprehensive documents to evaluate past periods and we are also able to draw attention to current problems in time.
MEDOR TIP: Keep all data and subsequent outputs under control. In addition to direct sales, Medor Reporting also analyses various external data.
Why use Medor Reporting?
Information in one place ‑ you will regularly receive comprehensive reporting from us
Process control ‑ we are able to draw attention to non-functioning existing solutions in time
Available also in the field ‑ it allows you to get a better overview for everyday work
Comparison with competitors ‑ we provide an overview of national data to compare sales
How does Medor Reporting work?
Your sales data is processed at weekly or monthly intervals, depending on the data distribution interval. If you use Medor CRM, all data is provided for processing on a continuous basis. Subsequent data evaluation only takes a few hours (up to 24 hours from receipt of data).
Reports are most often provided to the user via MS Excel, which is chosen as a presentation tool for its wide range of options for further data processing by the user. An alternative data presentation option is a web data interface with clear dashboards.
Who uses Medor Reporting?
Selection of some our very important clients who rely on us:
We are partners for your business
Ing. Pavla Kotrášová

Accounting Manager

Medopharm, s.r.o.

The cooperation with company Austro-Bohemia lasts more than 14 years and I am absolutely excited out of their work. Their professional and in particular human and individual approach is invaluable. From a position of the financial manager I appreciate prompt and almost immediate reaction to any problem and the effort to solve it all with maximal satisfaction of customer. I can rely on all of their reports. I really recommend the cooperation with Austro-Bohemia to all!

Mgr. Zbyněk Pronteker

Business Unit Manager

+pharma Česká republika s.r.o.

I am very satisfied with company Austro-Bohemia,we are using their services from the begging of our operation on a Czech market. For the purpose of managing our relationship with our customers we use system Medor CRM, which is very intuitive and user friendly right after brief training. System also brings us all necessary reports and key pointers to manage our activities.

Mgr. Kateřina Slabá

Product Manager

TECOM ANALYTICAL SYSTEMS CS, spol. s r.o.

We have been cooperating with Austro-Bohemia for more than 10 years. The IT support provided by Austro-Bohemia to our company is excellent and a professional approach has been a matter of course since the beginning of our many years of cooperation. I also appreciate the excellent communication and the ability to respond flexibly to all our requirements. Austro-Bohemia means seriousness and professionalism.

Ing. Josef Maléř

Business Unit Manager

Exeltis CZECH, s.r.o.

Austro-Bohemia has been providing Medor CRM to our company for more than 3 years. I particularly appreciate the ability to prepare Medor CRM according to our needs and requirements. I also appreciate their constant efforts to improve Medor and their service related not only to system support but also to IT administration.
Data processing
Sales data are processed in weekly (monthly) intervals – depending on the interval of data distribution. The evaluation of data takes several hours but always less than 24 hours from data received. Data from Medor CRM are provided continually.
Reports are very often provided in MS Excel, which is chosen as a presenting tool for its wide possibilities to process additional data by user. An alternative option of data presentation is also web data interface with clear dashboard.
Sales data processing
Medor Reporting is focused on complex processing of sales data of pharmaceutical companies, which are provided from distribution channels. Sales data are processed by default in pharmacies, hospitals, e-shops or directly by doctors.
Part of reporting is processing, consultation and evaluation of the sales plans. We process plans from general – so how big should be the volume of sales in which region, to plans with the highest granularity – how many pieces of which products should be sold by certain client.
The evaluation of plans is well-organized and understandable for everyone in sales team, but also provides detailed data for additional analyses.
Excluding the general sales information we also provide information about volume of return goods back to the distribution, or processed or reported various credit notes or rebate actions (sales 5+1). Information about issued samples or sold goods can be reported as well It is possible to process and other external data.
Thanks to complex processing is Medor Reporting able to provide overview of income above outcome by certain region, products or customers. Comparing of profitability of each region can alert weak places of sales or identify other sales potential.
In the sales area is possible identify rebate actions (pieces, e.g. 5+1 but also sales with discount comparing to price list) and also additional evaluation . Thanks to identification of rebates and possibilities to include additional costs from sales can be reported real sales amounts.
In addition to sales from distribution is possible to report also direct sales, it means the pieces sold directly by the team in terrain, office or via e-shop. The evaluation is carried out jointly or in parallel and the evaluation of sales from distribution.
For a comprehensive overview is often necessary to add additional data, e.g. redistribution of sales from small distributors, redeem the goods from the e-shops to sub region or one-time imports sales data from distribution.
Thanks to the system interconnection Medor Reporting can provide data from Medor CRM. Afterwards is available complete overview of sales connected with targeting and segmentation of customers, or terrain work – amount of visits, propagated products during those visits.
Part of reporting are also reports from inventory, therefore the view of goods development in storage of each distributor, overview of weekly movements towards pharmacies or redistribution between distributors with a detail to each product boxes.
Beside internal data about sales Medor Reporting provides overview of national data, where is possible to compare sales with competing products or track historical development and potential of each group of products – to obtain information about group products, where is business potential or to which product groups doesn't make sense to invest anymore. National data of Medor Reporting provide complete overview of market distribution (market-share).
Georeporting
A map data presentation is also available, which allows us to have full overview of managed regions.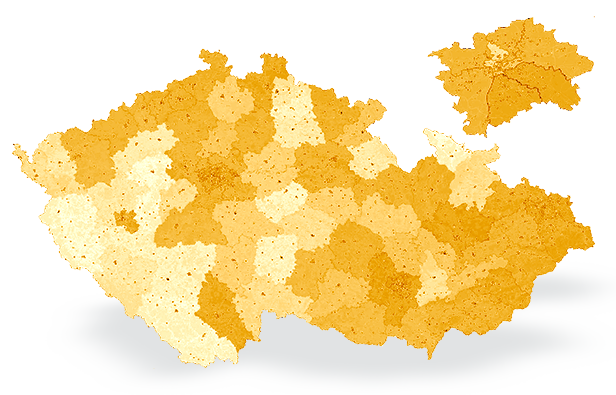 Price of Medor Reporting
Why is not the price also provided? Because we don't sell the CD, which can be inserted and installed in your laptop, but we offer modular system, which allows to compile functionality according client needs and in the same time we try to meet the individual client expectations and requirements. Price is developed based on complexity of implementation.
Medor Reporting in numbers
24,5 %

year-on-year growth of our clients

43 min

minutes from publication to evaluation

289 Kč

si price of one reported products

175.800 ks

of products are sold by our clients
Let's meet. We have a solution for you too.
Leave us your contact, or simply ask for anything.