We will help you streamline your business
Rely on a strong partner with a modern CRM system
Find out more
Use CRM to simplify business processes
Medor CRM is a modern information system for customer relationship management that will allow you to have full control over all client data. The system will help you provide your clients with much better care, which leads to higher profits at lower costs.
In our CRM, you can also easily schedule meetings, including segmentation and targeting options for different types of contacts. Processes are set up to evaluate total customer cost, obtain customer value, as well as support communication with customers and monitor the development of these relations.
What else Medor CRM offers:
company agenda management (attendance, time off, vehicle trip logbook, etc.)
sending transfer orders directly from distribution
accounting and electronic record keeping
direct selling and sampling
Our services also include Medor Helpdesk, which is always available to you and will answer every question you may have.
MEDOR TIP: Keep business processes and data under full control. In addition to CRM, use Medor Reporting, our smart analytical tool.
Why rely on Medor CRM?
Excellent availability ‑ internet connection is sufficient to enter and access information
Online data ‑ data accessible to all users immediately after it is entered into the system
High security‑ encrypted communication using our own SSL certificate
Data management and backup ‑ your data is backed up regularly for greater security
Easy update ‑ the system is kept up to date without the need for reinstallation
Minimum hardware requirements ‑ computing power is provided by the server, the user device being only used for presentation
MEDOR TIP : Use CRM in the field thanks to the tablet module. Using a simplified interface, you can receive orders, sell products or create transfer orders, including generating the necessary documents.
How does Medor CRM work?
It is a modular information system that we compile for each client based on their specific requirements. The core of the system is an application server located in a modern secure data centre with which users communicate via the internet from their computers, tablets or smartphones, using our client app or a standard web browser.
Our CRM helps dozens of companies
Selection of some our very important clients who rely on us:
We are partners for your business
Ing. Pavla Kotrášová

Accounting Manager

Medopharm, s.r.o.

The cooperation with company Austro-Bohemia lasts more than 14 years and I am absolutely excited out of their work. Their professional and in particular human and individual approach is invaluable. From a position of the financial manager I appreciate prompt and almost immediate reaction to any problem and the effort to solve it all with maximal satisfaction of customer. I can rely on all of their reports. I really recommend the cooperation with Austro-Bohemia to all!

Mgr. Zbyněk Pronteker

Business Unit Manager

+pharma Česká republika s.r.o.

I am very satisfied with company Austro-Bohemia,we are using their services from the begging of our operation on a Czech market. For the purpose of managing our relationship with our customers we use system Medor CRM, which is very intuitive and user friendly right after brief training. System also brings us all necessary reports and key pointers to manage our activities.

Mgr. Kateřina Slabá

Product Manager

TECOM ANALYTICAL SYSTEMS CS, spol. s r.o.

We have been cooperating with Austro-Bohemia for more than 10 years. The IT support provided by Austro-Bohemia to our company is excellent and a professional approach has been a matter of course since the beginning of our many years of cooperation. I also appreciate the excellent communication and the ability to respond flexibly to all our requirements. Austro-Bohemia means seriousness and professionalism.

Ing. Josef Maléř

Business Unit Manager

Exeltis CZECH, s.r.o.

Austro-Bohemia has been providing Medor CRM to our company for more than 3 years. I particularly appreciate the ability to prepare Medor CRM according to our needs and requirements. I also appreciate their constant efforts to improve Medor and their service related not only to system support but also to IT administration.
Your data is safe with us
Data security is based on using modern SSL certificates that don't allow eavesdropping on communications by a third party. Your data is secured by username verification, a strong password and a system of basic access rights.
All data is stored on a secure server in a data centre and is regularly backed up. The building has 5 security perimeters against physical intrusion, with access protected by a CCTV system and PIN cards. The data centre is not affected even if 2 routes are cut at the same time.
Moduly systému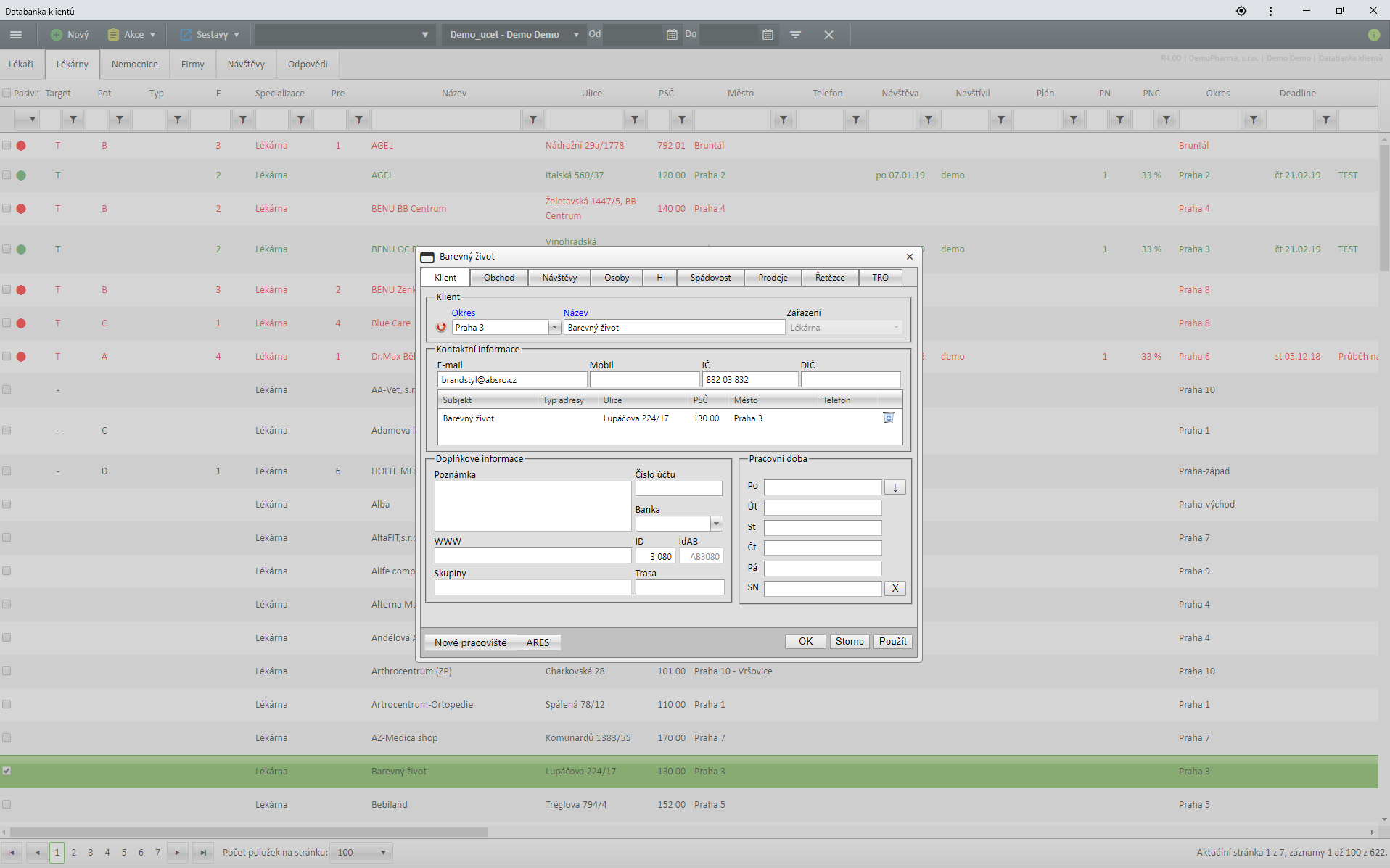 Module serves for evidence and maintenance of contacts, to which allows to save all important data – from phone number through opening hours and contact persons to identification numbers of drug distributors. It is also databank of clients in central evidence of economic subjects and by using ID of client helps to complete these data automatically.
Clients databank provides the ability to perform segmentation and targeting in various dimensions. The contact view is than modified according the user role – sales representative has available only contacts of his and manager has overview above whole region. For quick orientation in mass data the module uses complex and user-friendly mechanism of filtering.
Medor CRM contains centrally managed database of pharmacies with regular updated pharmacy chains. With connection to Medor Reporting is possible to see sold individual product of any pharmacy.
This module is equipped with options for export, and also necessary reports. It is also possible to import contacts with the history from existing information system.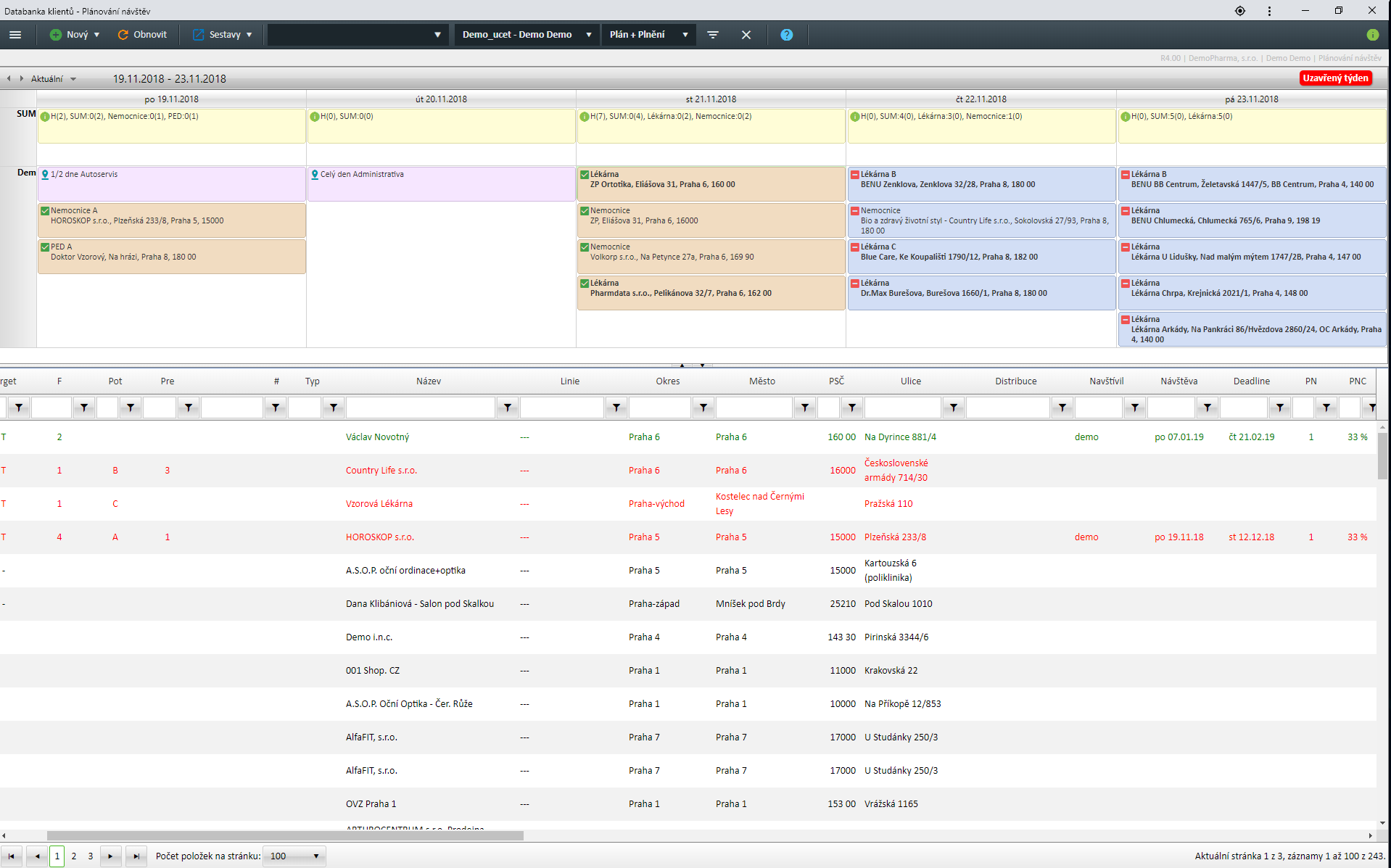 Module is used for fast creation of daily plan and weekly plan by dragging filtered contacts from client databank to calendar. Visits planner leads the user – business representative – to regular and timely visits of contacts. The user is also alerted regarding the contacts, which need to be visit in upcoming week. Thanks to targeting are key deadlines created, which lead representative to proper care of assigned region.
This module serves to fill contact forms during visits. Outside the basic information about the visit is possible to define individual questionnaire as well and during the visits is possible to collect valuable information about clients directly during working in terrain. You can track the propagated products with evidence of amount of prescribed or sold pieces for following cost identification of individual product during each visit.
Beside contact reports is possible to register also the user activities, like Business review, Congress or Area meeting. Visits planner is connected with other modules of Medor CR so it is possible to include vacation in the calendar as well as register issues of samples or direct sale directly from contact report.
Module is connected with map backgrounds, where is possible to display daily route of Sales representative.
Exports and reports of fulfilling the representative plans or timely planning are of course included.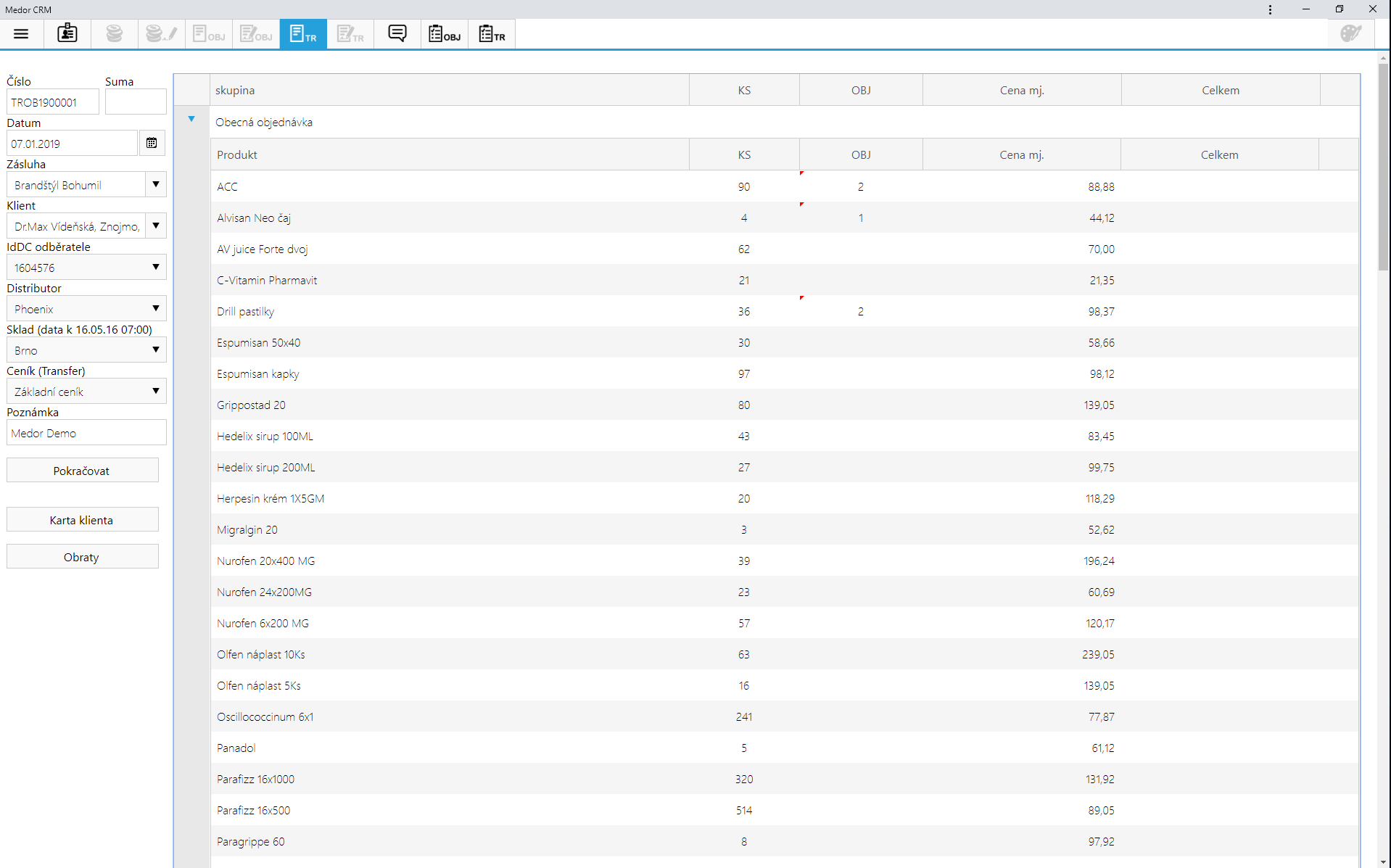 Medor CRM allows to order products for clients directly from distribution stores. During ordering the sales representative has available actual statement of regional distribution and also overall summary of inventory.
Once the order is finalized the confirmation is created, this document can be signed electronically directly on tablet and afterwards send via email to client, sales representative or to the office.
Module contains the order status overview including necessary reports.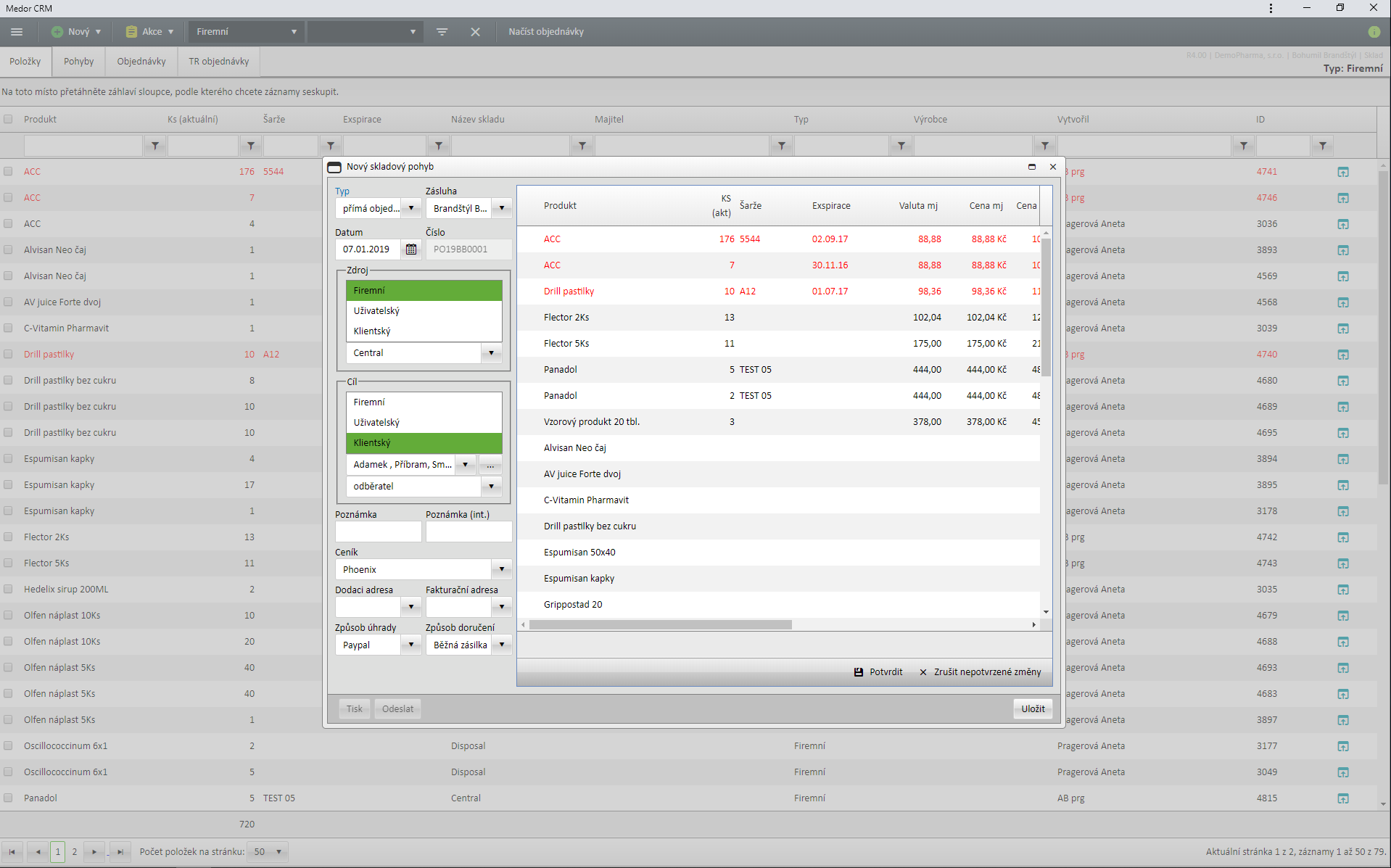 Part of Medor CRM is also module for complete warehouse management, which secures the process from stock resupply, distribution to sales team and sales records to distribution of samples directly at the client.
Matter of course is possibility to define the prices – either sales prices or to certain groups of customers, as well as exhibiting the forms and documents (delivery notes, invoices, etc.) directly from the system.
Both movements in internal storages and also distribution of goods to customers are possible to monitored thanks to clear repots.
This module of agenda serves to record request of vacation and following approval or denial of request during approval flow. For individual types of leave is possible to set up annual entitlement for each employee and the remaining days are always calculated already during application. Its not allowed to take more vacation days than they can claim.
Module provides the clear overview of the time schedule of individual holiday vacations of each employee in company, supervisor can be warned of any new vacation request via email or provides necessary reports for payroll clerk.
On the top of mentioned above this module allows connection with MS Outlook, thanks to which is possible to display information about vacation also in personal calendar.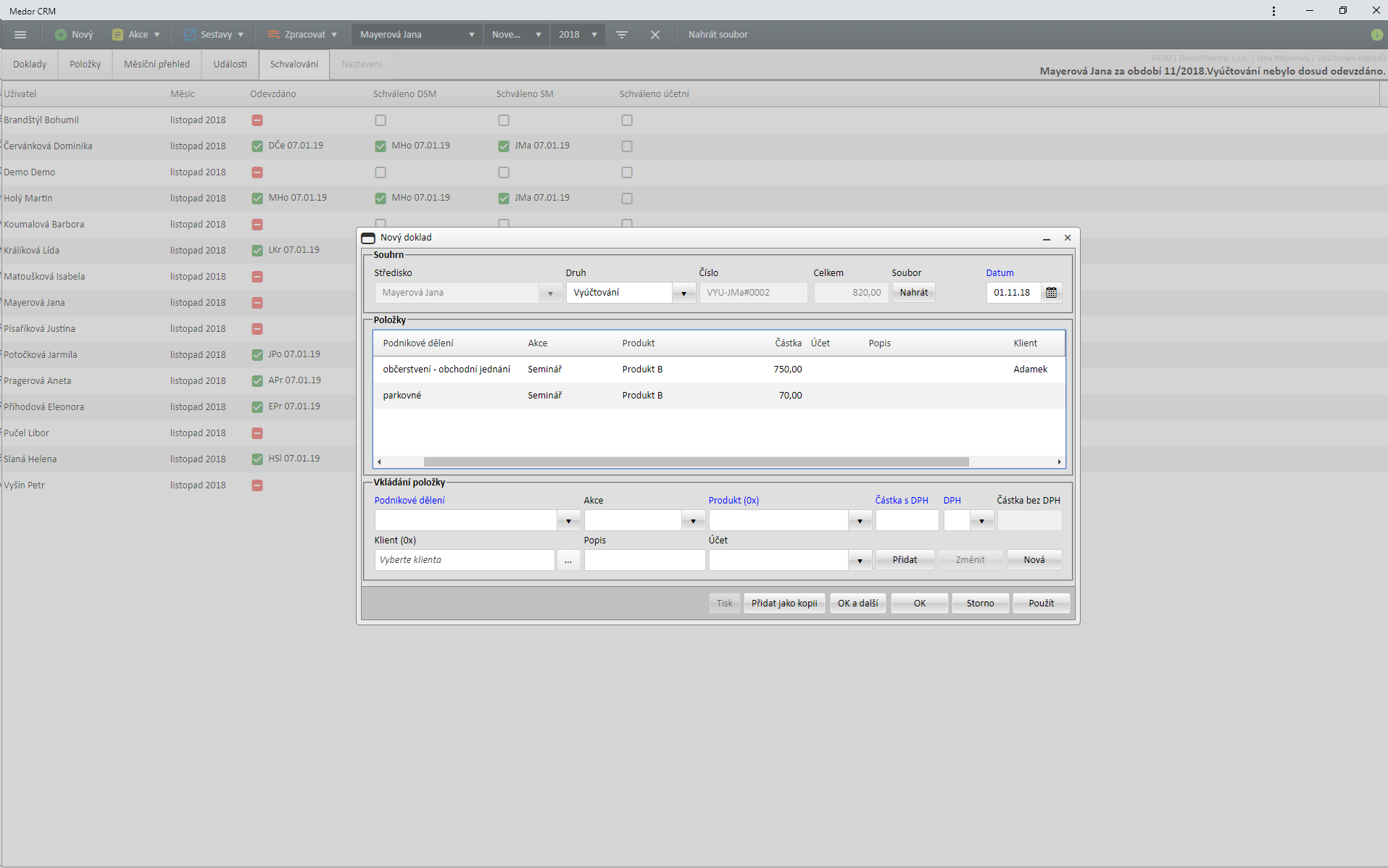 Module records the information about user expenses, mainly to sales representatives. It helps and allows to split the expenses by types, products or clients for need to expense reports for representation. Module contains the clear system of billing approval, from submitting by sales representative to final approval by supervisor and preparation of expense summary for accounting.
In case of using the Accounting module, the records are automatically coding to accounting and in connection with Log book automatically allows the calculation and registration of meal allowance.
Module is also equipped by the tool to import data, like the files with credit cards billing, or complex set of exports and overviews.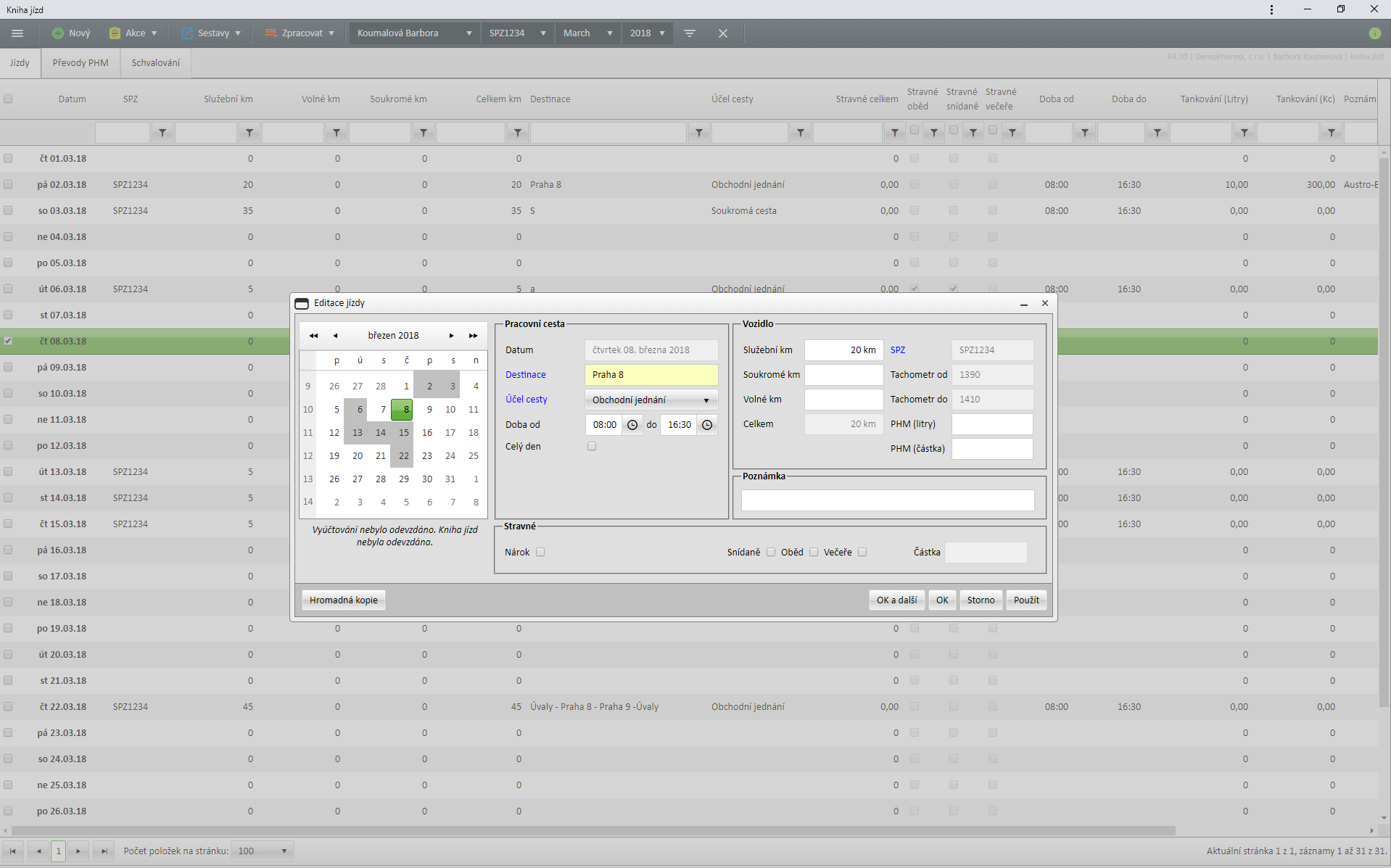 Intuitive module allows to record not only the business drive, but also private drive with company car. Except the necessary records to log book, like amount of traveled kilometers, refueling, the business reason of travel, module can also record daily meal allowance, not only given by local legislation, but also the additional meal allowance above standard.
Module is connected with accounting agenda, to which is possible transfer the meal allowance. Filled log book after closing period is going through approval and check process.
The outcome is detailed general overview or overview of the fuel consumption.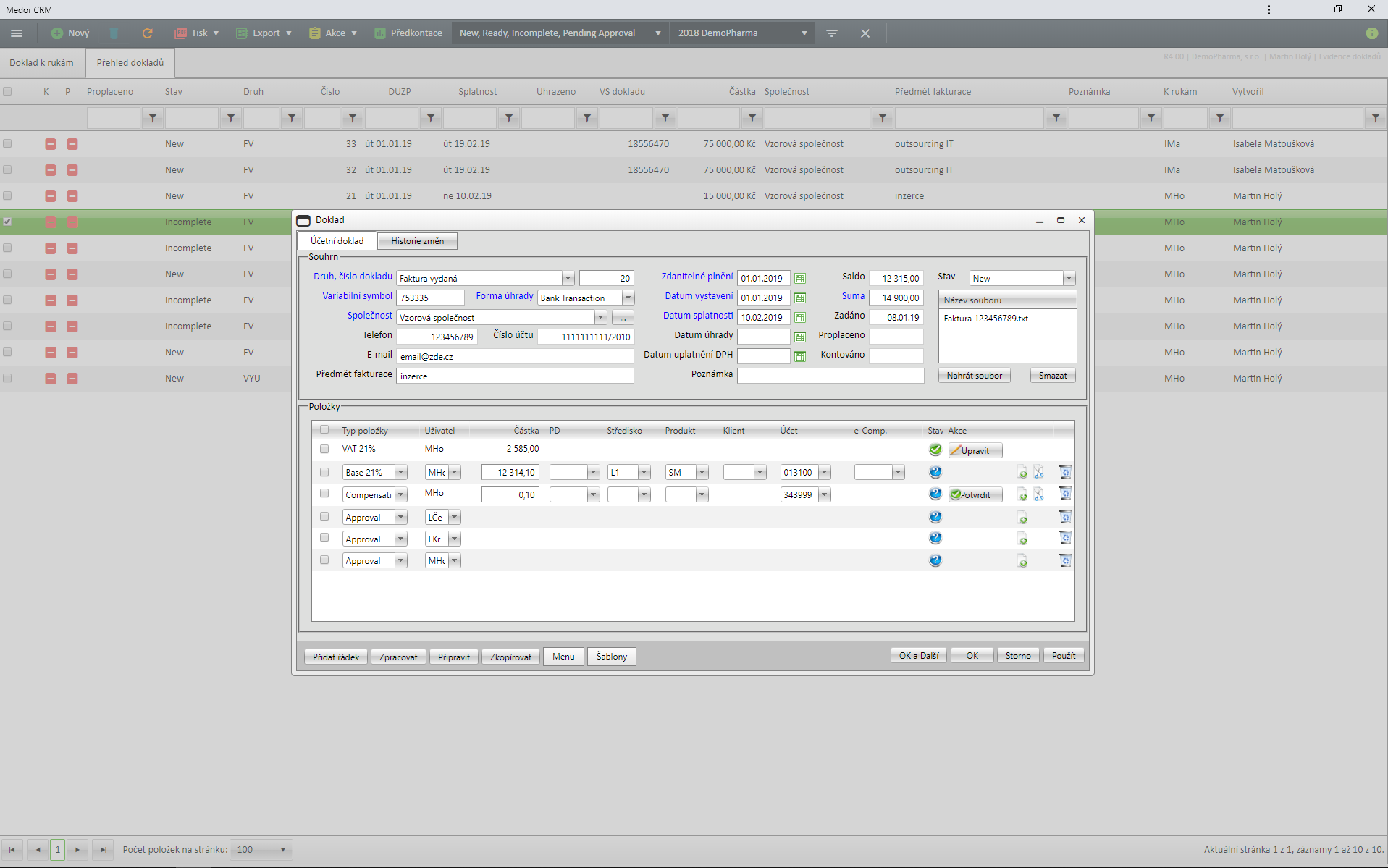 Module can completely replace the paper documents of company by electronic process. Invoices are digitized while entering the system and scanned copies of documents are included in electronic attachment. Document is send to approval process, where are individual costs split by the cost centers, accounts and also clients and approved afterwards. After approval is document processed – paid.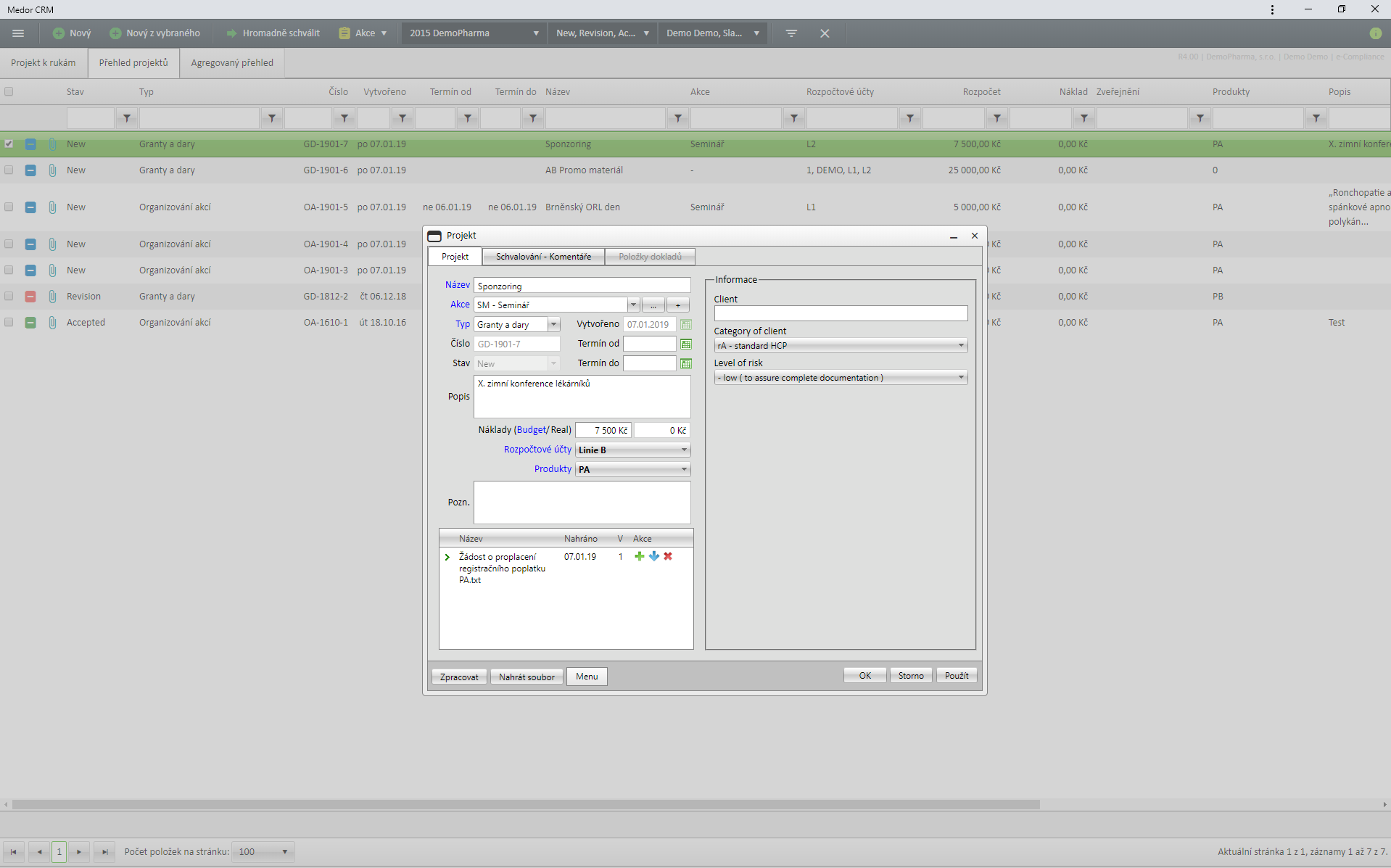 Intuitive and clear module of electronic evidence of company projects. To each project is beside the basic identification and selection possible to include the costs, products or budgets. It is possible to upload the electronic documents and send for approval. Approval process is fully scalable according the company needs.
It is possible to connect accounting files from Electronic document evidence with approved documents.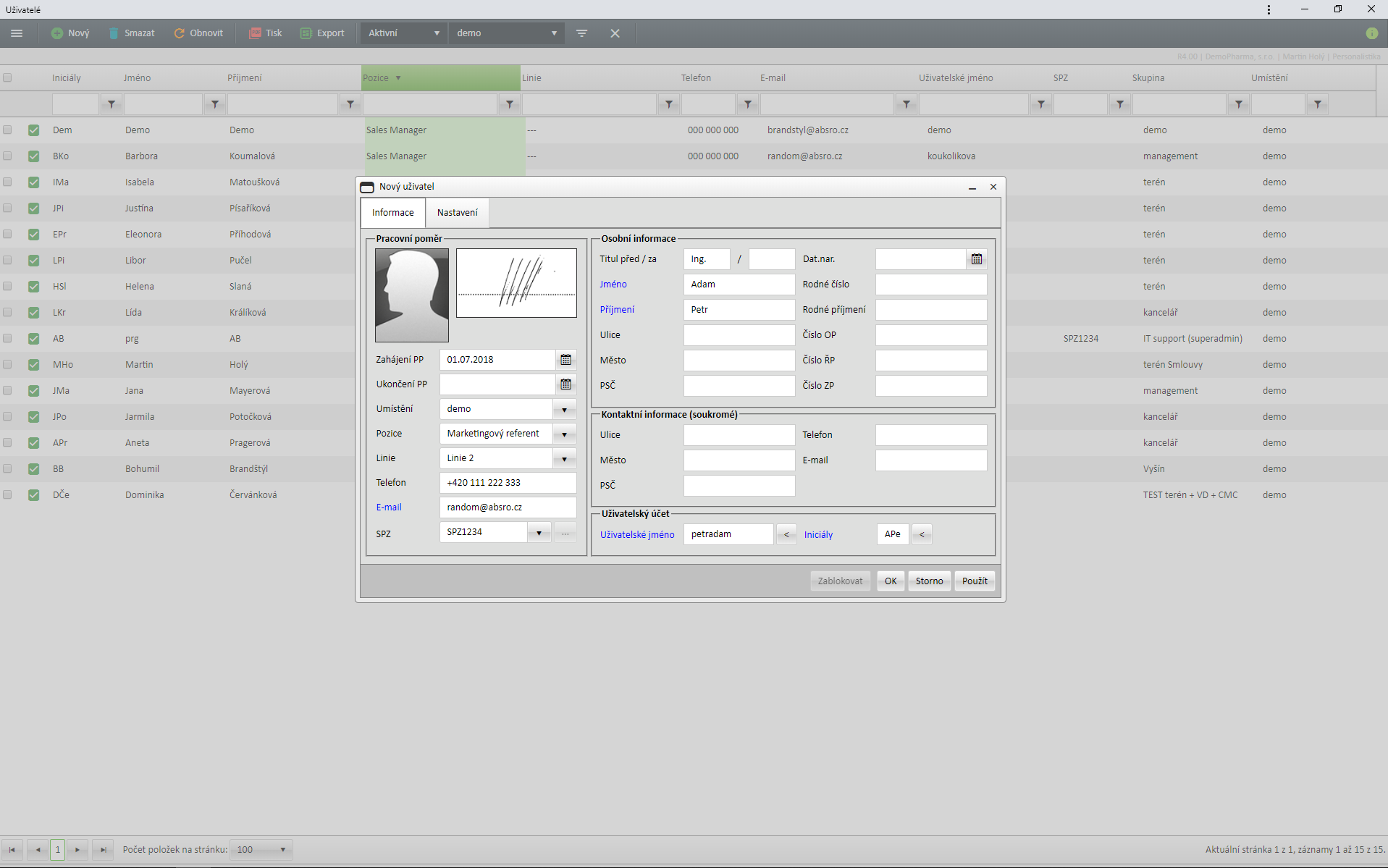 General evidence module of necessary employee details from personal data, through contact information to details about company credit cards or the evidence of salary range and selling rating.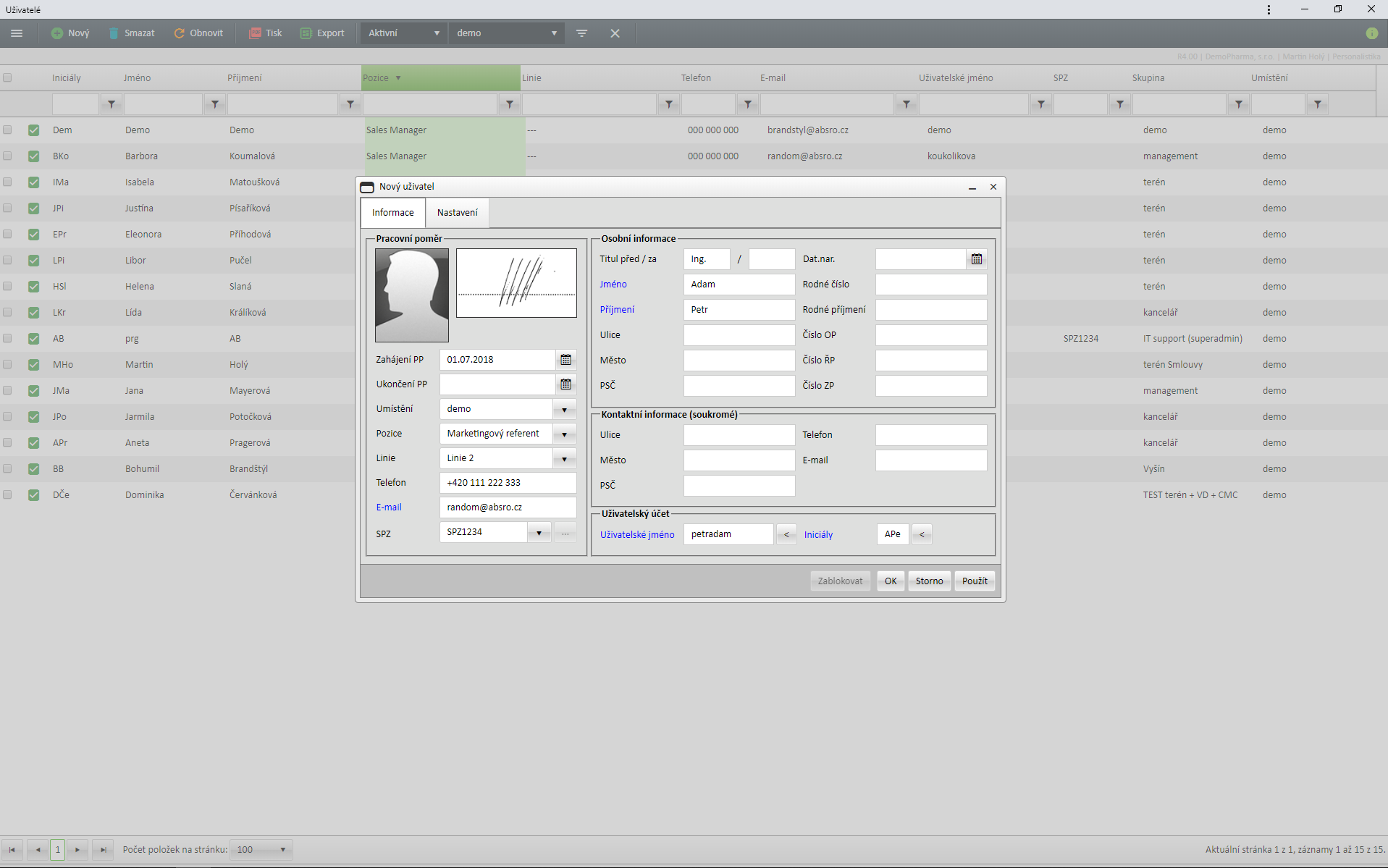 Medor CRM is equipped by complex accounting, which is fully integrated into the system. It contains all agenda given by law for managing the company accounting including sophisticated financial statements.
Mobilní přístup ‑ Tabletový modul
Tablet module is connected with CRM and business module. The module is designed for fast work in terrain. Allows comfortably and effectively finalized all tasks in tablet, which need to be done during client visit.
Thanks to simplified interface is possible to receive orders, sell products or create transfer orders including generating of necessary documents.
Module is also intended for recording the process of visit, which can be filled comfortably in terrain between each visit.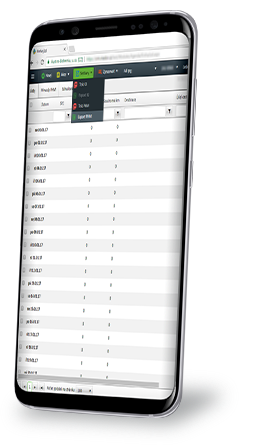 Price Medor CRM
Why is not the price also provided? Because we don't sell the CD, which can be inserted and installed in your laptop, but we offer modular system, which allows to compile functionality according client needs and in the same time we try to meet the individual client expectations and requirements. Price is developed based on complexity of implementation.
Medor CRM in numbers
3

production servers

14

production servers

783

active and satisfied users

2.606

helpdesk requests solved in this year
Let's meet. We have a solution for you too.
Leave us your contact, or simply ask for anything.